Reviews and recommendations are unbiased and products are independently selected. Postmedia may earn an affiliate commission from purchases made through links on this page.
Article content
What happens when HGTV Canada star Scott McGillivray takes on his biggest real estate investment project to date – a dilapidated lakeside vacation resort a couple of hours northeast of Toronto? He enlists the help of rival Bryan Baeumler and turns it into a fit-for-TV renovation challenge, pitting four dynamic design-contractor duos against each other to transform four brand new timber frame cabins into signature beachfront retreats.
Article content
And though it premiered on HGTV Canada and STACKTV March 5 as Renovation Resort, the new series could just as easily be called Reality Resort, given the real moments and struggles that make the editing cut,.
Article content
"We really just let this happen," said McGillivray. "There's no script, no major format. It was a brand new show and we were going to bring everyone here and let them do their thing and be authentic."
From the casual banter – and playful digs – between McGillivray and Baeumler, to the angst between competitors when things go wrong, to the sincere opinions of guest judges, the show is an honest look at the arduous renovation experience, added Baeumler. "You watch these teams go through this process and as they get tired, as they get on each other's nerves a bit, you really see the stress … and I hope people can connect and learn a little bit from that," he said.
Article content
The series introduces four keen-eyed teams, eager to impress the two HGTV stars with their distinct design approaches: April and Arnold from Chicago, Savannah and Kyle from Phoenix, and Jena and Sean and Rotem and Troy from Toronto. Armed with a healthy $100,000 budget, each pair is tasked with remodeling their assigned cabin over the course of seven weeks with each week representing its own unique design challenge.
McGillivray and Baeumler name weekly winners, recruiting expert guest judges throughout the season to help evaluate the quality, functionality and creativity of each design, and delivering the news around the communal fire pit. Ultimately, the team deemed to have the best cabin will earn bragging rights and a $100,000 reward.
Article content
First up, competitors are assigned the main bedroom and bath, with the front entrance added midway through episode one as a 'bonus build.' It doesn't take long for four distinct themes to emerge.
April and Arnold decide on a luxe, high-tech vibe; Jena and Sean opt for a playful, minimalism; Savannah and Kyle go all out to deliver a romantic, old world charm; and, Rotem and Troy create an airy Mediterranean paradise.
"If you asked Scott and me to design and finish these cabins, I don't think they would have looked anything like the four we ended up with," said Baeumler.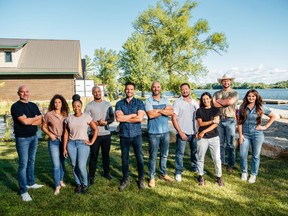 For Rotem and Troy Lamsee – co-owners and founders of Toronto-based Ace of Space Interiors, who answered the casting call at the urging of a doting client – the experience was as rewarding as it was tasking.
Article content
"It was gruelling, really long days, but so much fun, so much creativity and so much great bonding with the other teams, it really just pushed us to the limit," said Troy.
The couple is so used to working together, "it's like they do it in their sleep," added Rotem, who came to Canada from Israel at age 12 and learned her trade from her father. They decided from the outset to create a vacation rental that they themselves would enjoy, replicating the airy, bright and inviting feel of a Mediterranean villa filled with earthy tones and hand-made materials.
In episode one, guest judge Debra Salmoni, McGillivray's co-host from Scott's Vacation House Rules, calls the terra cotta herringbone tile on their entrance floor "stunning" and remarks that the master bedroom feels like a European hotel. Rotem's flair for archways – which Troy carefully crafts in both the front entrance and shower – wows all three judges.
Article content
"They say the devil is in the details," remarked Troy, noting that they put an emphasis on finishing in any project they undertake. "We know Scott and Bryan look at that kind of stuff so we wanted to make sure we didn't miss anything."
Perhaps reflecting Canadian frugality, the two Canadian teams spend the least on the first challenge, with Rotem and Troy reporting the lowest budget at just $11,500 due to Rotem's cost-conscious approach. Savannah and Kyle get the first win, but as the episodes continue, it becomes more difficult for all four teams to keep momentum going, said McGillivray.
"Was it the right decision to let them completely freestyle? I guess we'll find out," he said, adding that viewers can expect to see the resort "really start to come to life" in episode six, including a fifth cabin that he teams up with Baeumler to transform.
"Some of them did some really great stuff and some of them made some bad choices, but that's part of the evolution of the process," said McGillivray.