Reviews and recommendations are unbiased and products are independently selected. Postmedia may earn an affiliate commission from purchases made through links on this page.
Article content
A time-honoured Christmas carol encourages us to deck the halls with boughs of holly but with cozy winter whites, luxe sherpas and sweater weaves glimmering for your attention, the thought of comfort and joy sounds appealing too.
Article content
"Whether you want to give your space a full merry makeover or just add a few thoughtful touches, our holiday lineup is full of creature comforts that will bring a soft touch of seasonal style to every corner of your home, from sherpa stockings in black, caramel and ivory to evergreen faux trees and lush wreaths," the Urban Barn team says. "Creating Christmas magic at home has never looked so good."
Article content
Many decorations have become holiday staples in countless homes but over the years, they've taken on new twists and this year is no exception, beginning with Very Peri, the 2022 Pantone Color of the Year. The dusky purple has blue-grey undertones and will look stunning against a green tree or trendy flocked tree. Blend with purple hues like lavender and plum and/or add a touch of glamour with silver or gold.
Article content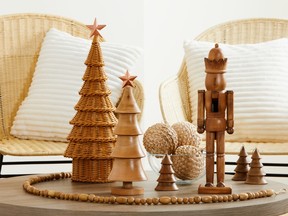 ESTABLISHED AESTHETIC
While it's fun to update your holiday décor, remember the style and colour of your existing decorations and consider your personal style before stocking up on all that sparkles. "Holiday décor works best when it fits within your established aesthetic," says Sheila Magro of public relations at HomeSense.
If your style is minimalist, for instance, she suggests incorporating winter chalets and decorative accents in light-wash woods. Add colour with deep cranberries, pomegranates, cool green, and/or classic creams. "Vintage-looking decorations paired with mix-and-match serve wear in modern holiday hues create a gorgeous tablescape ready for gatherings big or small."
For a playful and nostalgic approach to the holidays, accent winter whites and pretty blushes with matte golds and bronze. "Amp up the cozy factor with texture, texture, texture," says Magro.
Article content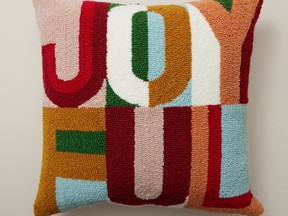 Add throw pillows in luxe sherpas, faux furs and sweater weaves in gathering spaces. "Nostalgic felt decorations paired with chic coloured glass ornaments and modern lantern-style string lights are the perfect finishing touches to turn your home into the holiday fairytale of your dreams at incredible prices."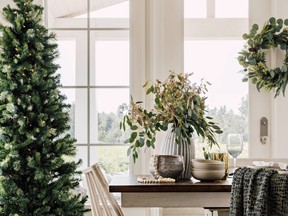 The Home Depot Canada has three holiday themes this year:
•

The Warm Nurtured collection has a warm minimalist feel and features rattan textures, wooden accents, plumes and pampas.
•

The Hushed Deco collection is elegant and embellished and features white faux fur, metal gold accents, white frost, and fringe and tassels.
•

The Winter Break collection is described as 'farmhouse meets ski cabin' and is rustic and masculine with Nordic sensibilities. Create the luxurious lodge touch with plaid, all over flocking, cozy knits, and reds and greens.
Article content
ELEGANT FLAIR
"Indigo's 2022 holiday collection has been developed and designed for beauty, function and longevity, but also to add meaning to each customer's holiday season, regardless of how they choose to celebrate," says Pam McDermott, Indigo merchant vice-president of lifestyle.
"From artist-crafted dinnerware and eye-catching wine carafes to irresistibly soft fur stockings and recycled book ornaments, Indigo's holiday décor provides an elegant flair to enrich what matters most: time shared with loved ones."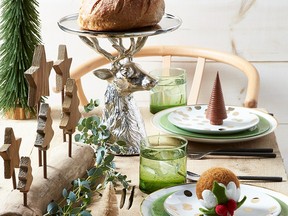 Decorate like a designer
When it's time to deck the halls, starting with a blank slate, advises Patti Wilson of Patti Wilson Design, a full-services interior design firm. Consider her tips:
Article content
1.

Choose a colour scheme and décor theme. This can be challenging because people often collect and inherit décor and ornaments through the years, but you don't have to display everything all at once.
2.

You'll keep most of your furnishings and décor in place but clearing fireplace mantles, dining room tables and hallway consoles allows you to refocus your décor to be themed for the holidays. The same goes for swapping out photos in picture frames.
3.

Follow the "one in, one out" rule. For every new piece you introduce into a room, remove one item. This ensures you're not over cluttering and each holiday addition has room to shine.
4.

Evergreens are a perfect way to carry the seasonal theme throughout the home, so go green in the form of faux or real garlands, swags, bunches and balls. A lovely and natural complement is natural wood, such as wood bowls and candleholders.
5.

Set the mood with lighting. Whether it's the natural glow from candlelight, a fireplace, stringed lights or table lamps with warm bulbs, lighting provides a cozy aesthetic and sets a mood that can ground your space and accent your holiday décor.
6.

Hit every room. In addition to a garland-wrapped banister, candle-clad fireplace mantle and dining table centrepiece, add a seasonal touch to unconventional areas, like the mudroom, bathrooms and bedroom. Homemade crafts and ornaments are charming and economical additions but apply them in small doses.
7.

Get cozy. Layered pillows, heavy throws and area rugs all contribute to a cocoon effect. Look for lush and plush weighted fabrics and textures like velvets, corduroy, wools and faux fur. Be sure to stay within your chosen decorating theme and colour palette.