Wall decor panels are more practical than art but just as beautiful; less practical then paneling, but so much more aesthetic.
So if you want wall decor ideas that combine the best qualities of wall paneling and decorating with art, it's time to explore the possibilities of wall decor panels. 
From traditional painted wood to chalet-style cladding alongside leather and other textured treatments, we look at how to decorative wall panels add instant character to a room. 
Wall decor panel ideas – from contemporary to classic
In days gone by, paneling's purpose was insulation. Today, wall decor panels have evolved into an elegant and modern decorative flourish, as these ideas show.
1. Choose simple relief panels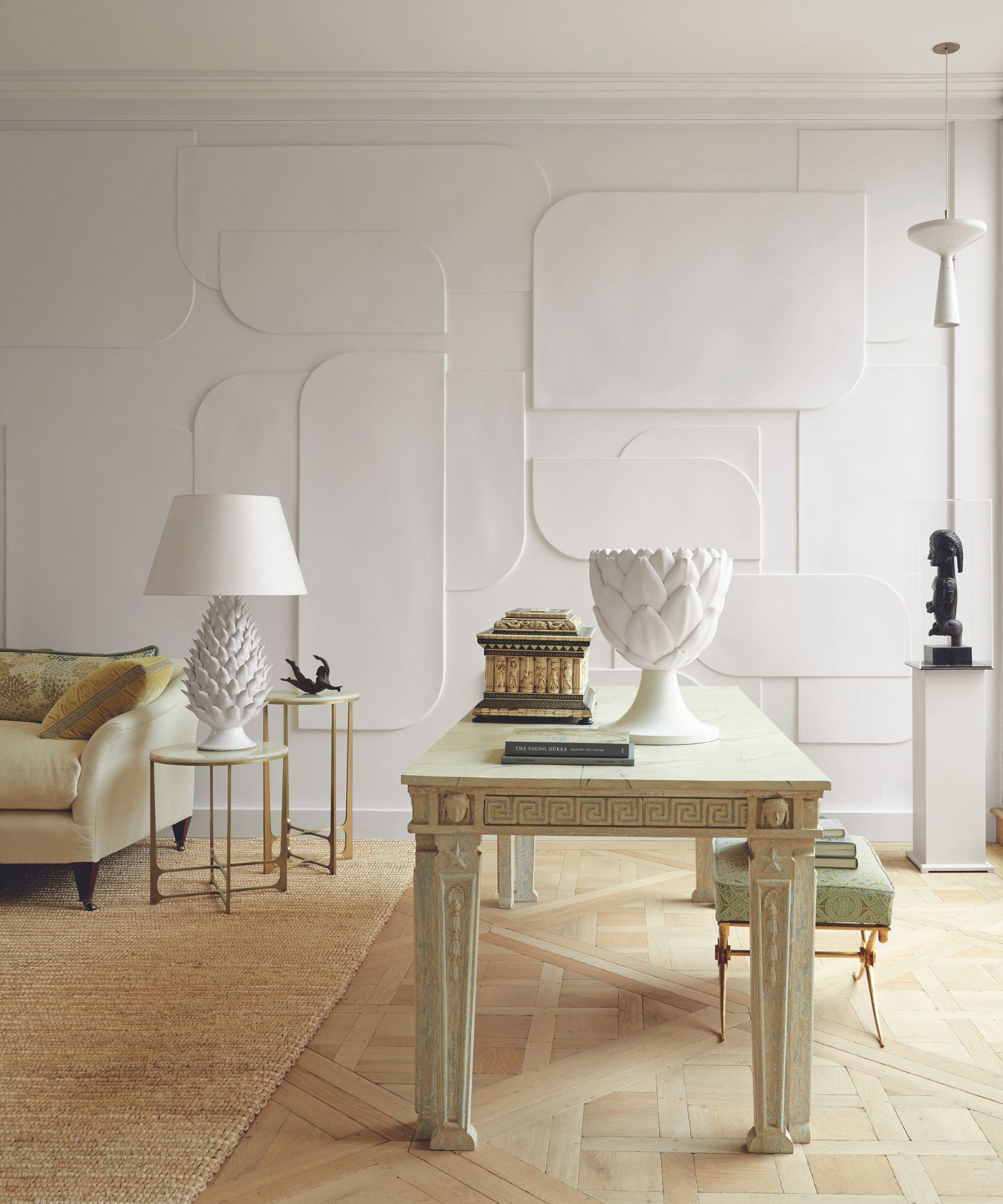 As the desire for more traditional and hand-made crafts in the home grows, designers are turning to specialist painters and sculptors to create unique wall decor panels. 
Bas relief or "low relief" is a sculptural technique in which the design subtly protrudes from a flat surface (differing from high relief where the sculpture is much more elevated beyond the wall). 
In this scheme by Maddux Creative, the clients' considered collection of antiques, books, objects and art was an inspiring starting point for the light and bright library space where they created a striking plaster bas-relief mural. 
'We have a penchant for unusual wood species and colored marbles but will always temper these with a more modest material, such as plaster. Here, an artistic plaster bas-relief mural adds interest to the neutral library,' explain co-founders Scott Maddux and Jo leGleud.
2. Use textile wall decor panels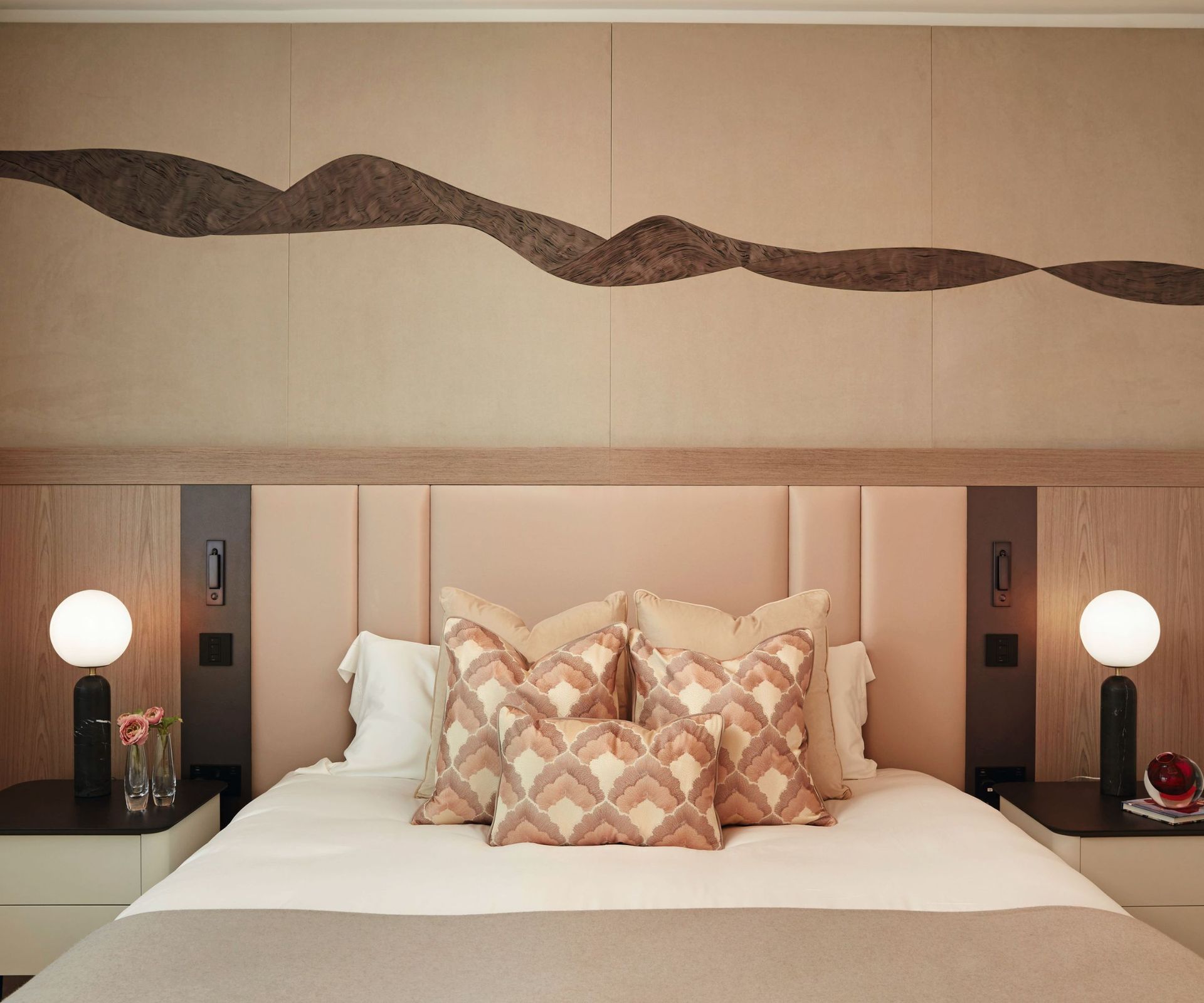 The wall above a bed is a perfect canvas on which to hang a piece of embellished fabric or an eye-catching oversized headboard. 
In recent years, there has been an explosion of headboards with colorful applique or crewel work designs but commissioning a piece of textile art, such as this billowing ribbon concept, takes things one step further. 
Textile artistry delivers a warmth, substance and elegance to a space that is very hard to replicate in other forms, believes the contemporary British artist Aiveen Daly. 
This design features over 4,500ft of dove-grey Italian ribbon which has been pleated by hand and set in flush suede. 
'I love the element of surprise as you get closer and the depth and detail of the work is slowly revealed,' says Aiveen.
3. Think: leather wall decor panels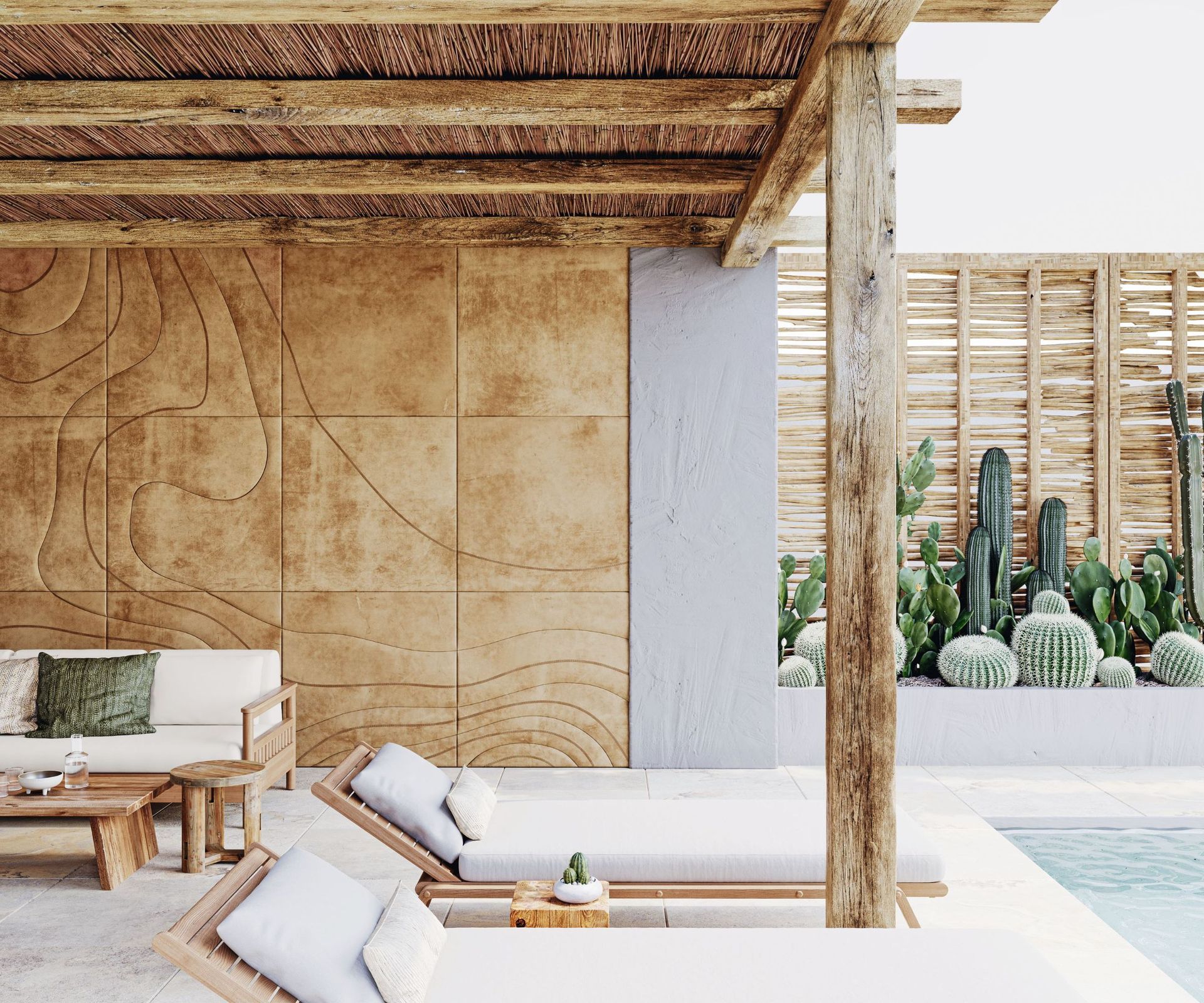 Leather wall decor paneling is a luxurious way to add color, texture and warmth to a room – it's also excellent for noise absorption, hence being a good choice in rooms where acoustics are an important consideration such as a home office or a movie room. 
Leather details work particularly well when paired with other natural materials such as stone, wood and metal. This design, by the Italian leather wall covering specialists Studio Art, features hand-made stitching in sinuous contours inspired by the shapes of the earth's continents. 
Each square panel has been treated to lend the leather a vintage patina, as they are hand-made, no single panel is identical. The results 'give a sartorial and refined allure to the surface, resulting in a refined decorative wall covering,' says the designer Massimo Brancati
4. Invent your own architecture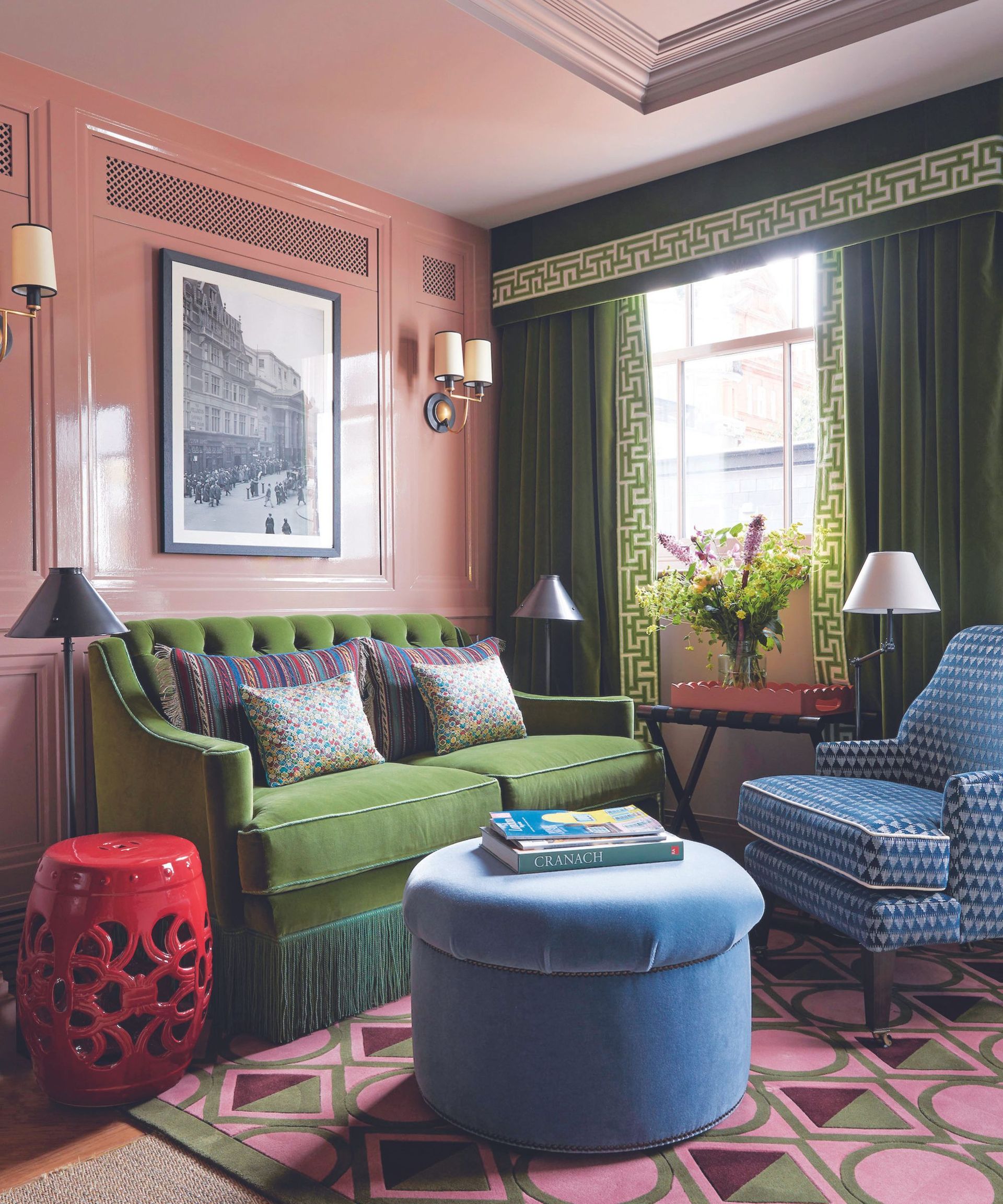 Wall decor panels in entryways, hallways or areas of high traffic often perform a practical service to protect the walls but can also be an elegant way of hiding equipment such as electrics and air conditioning units in bedrooms, too. 
'This is paneling that we added,' explains interior designer Nicola Harding of this bedroom. 'We completely re-worked the arrangement of the building, to accommodate all the bedrooms, ensuites and all the various mind-bending equipment that goes with a 5* hotel – so everything was new. 
'In this bedroom we had to create a removable panel so that the maintenance team could access certain equipment, we designed the wall decor panels as a neat solution to creating that access.'
5. Use wall panel decor to divide spaces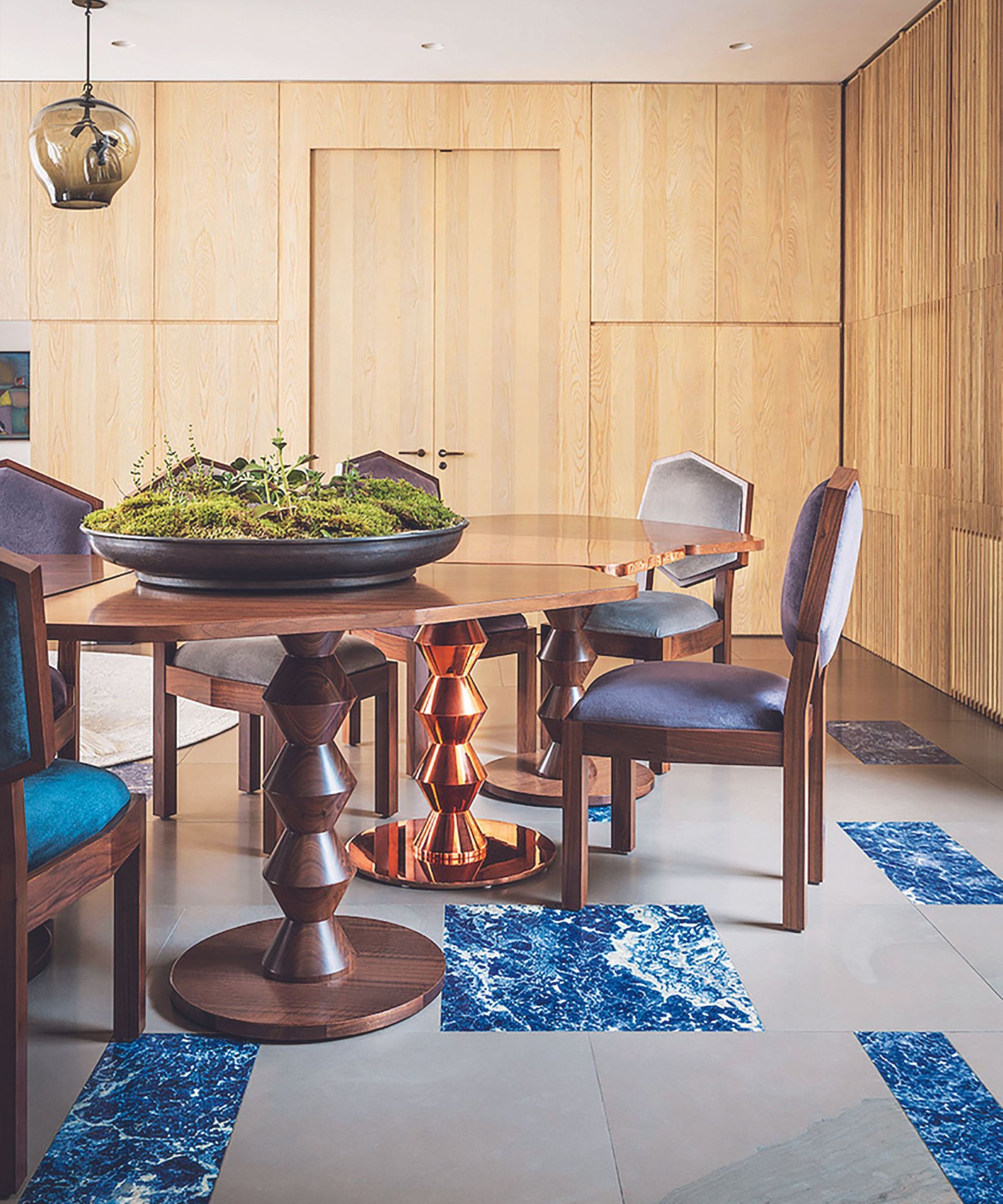 Designing rooms which can be joined together to form one large space forms a challenge to any designer: strike the wrong note, and the room result looking like a cold corporate office. Room divider ideas can be combined with wall decor panels really successfully.
And while broken plan living rooms, for example, can be created with glazed partitions (either in transparent or ribbed glass), wood panels create more definition between the two spaces, and greater privacy when the doors are closed. 
'The oak panelling installed in this room serves a dual purpose,' explains interior designer Shalini Misra. 'It is designed to add a contemporary texture to the space but is not fixed. The panels in this image are actually screens that divide the kitchen and dining areas, offering the homeowner greater flexibility when eating and entertaining.'
6. Introduce contrasting texture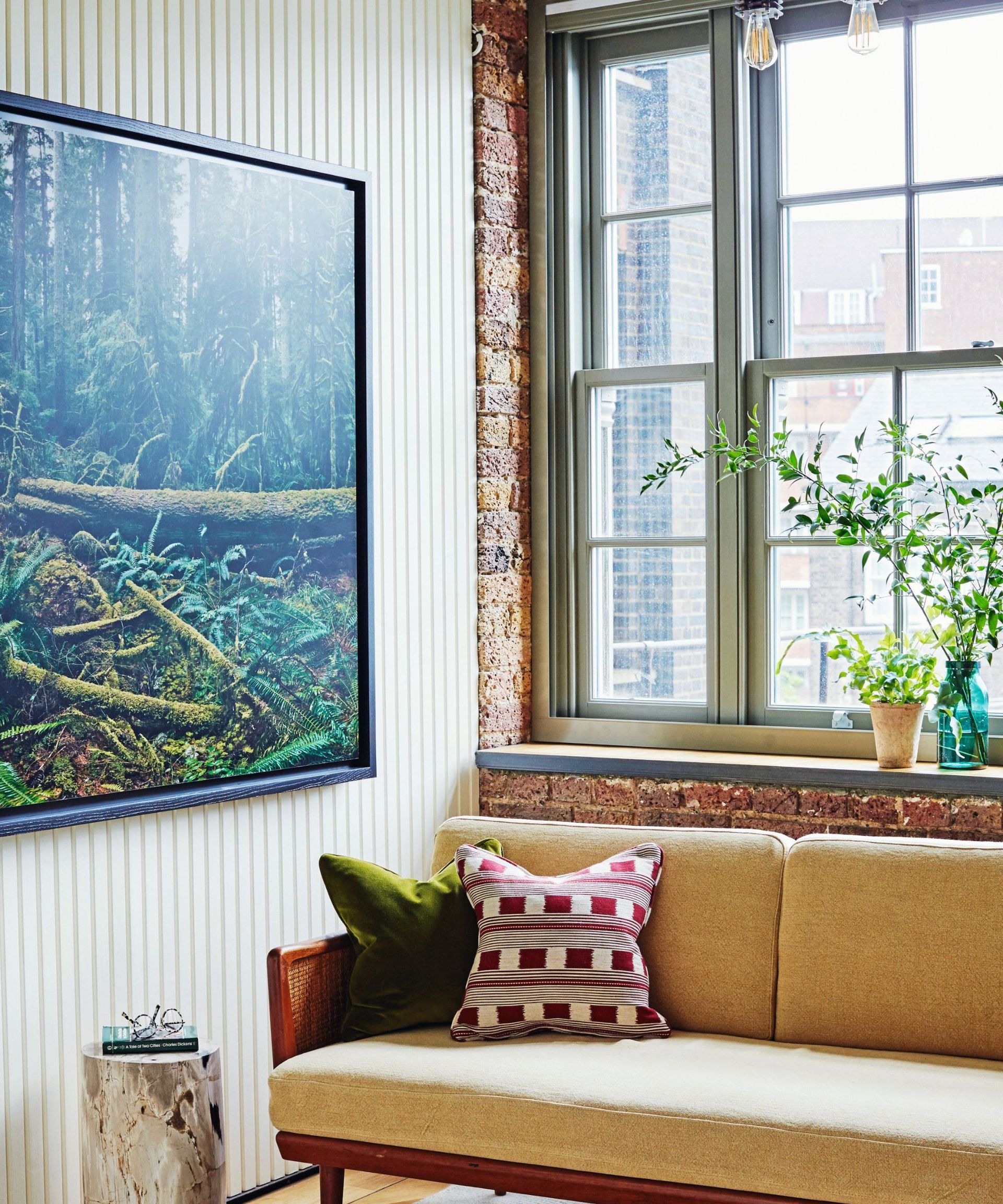 Bringing character to voluminous open plan spaces presents a classic design challenge for any interior decorator. While furniture and art are obvious solutions, don't forget to consider how the texture of walls can make a mark on the room. 
Rather than a traditional tongue-and-groove design, matchstick timber wall decor paneling will add a greater textural element to a wall, as demonstrated in this scheme by Sims Hilditch. 
'The new matchstick paneling chosen for the interior of this loft sits in contrast with the original exposed brickwork retained from the property's former industrial purpose as a piano factory,' explains design director Louise Wicksteed. 
'The balance of antiques, mid-century furniture and original elements paired with contemporary touches like the paneling and steel kitchen creates a layered and considered aesthetic suitable for modern living, without jarring with the property's 18th-century heritage.'
7. Create contrast with materials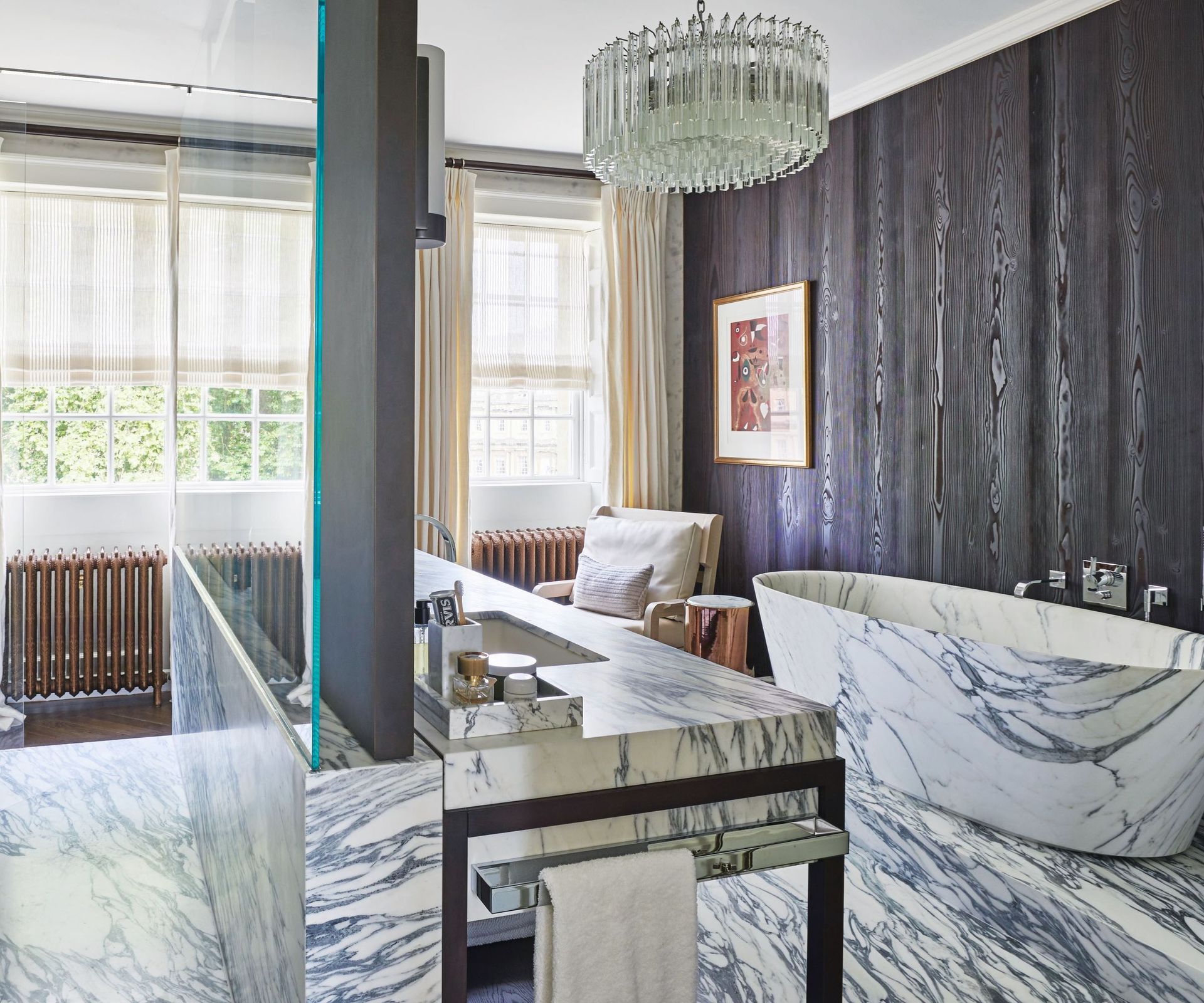 An easy way to create a high impact interior is by using contrasts with colors, textures or materials, and you can do this with wall decor panels. 
Try to choose elements that are opposites yet fit together effortlessly so that the room looks both striking and balanced. A good solution is to ground the scheme with natural materials which will maintain a sense of cohesion. 
This approach will add depth to rooms which can suffer from too many hard surfaces and an over-dependence on functionality such as kitchens and bathrooms. 
In the main bathroom of a Georgian property, Fiona Barratt Campbell, founder of Fiona Barratt Interiors, blends contemporary with traditional. Rough, sandblasted black oak wall decor paneling contrasts perfectly with the smooth honed Arabescato marble bath forging a dramatic play on materials. 
8. Limit decorative panels to doors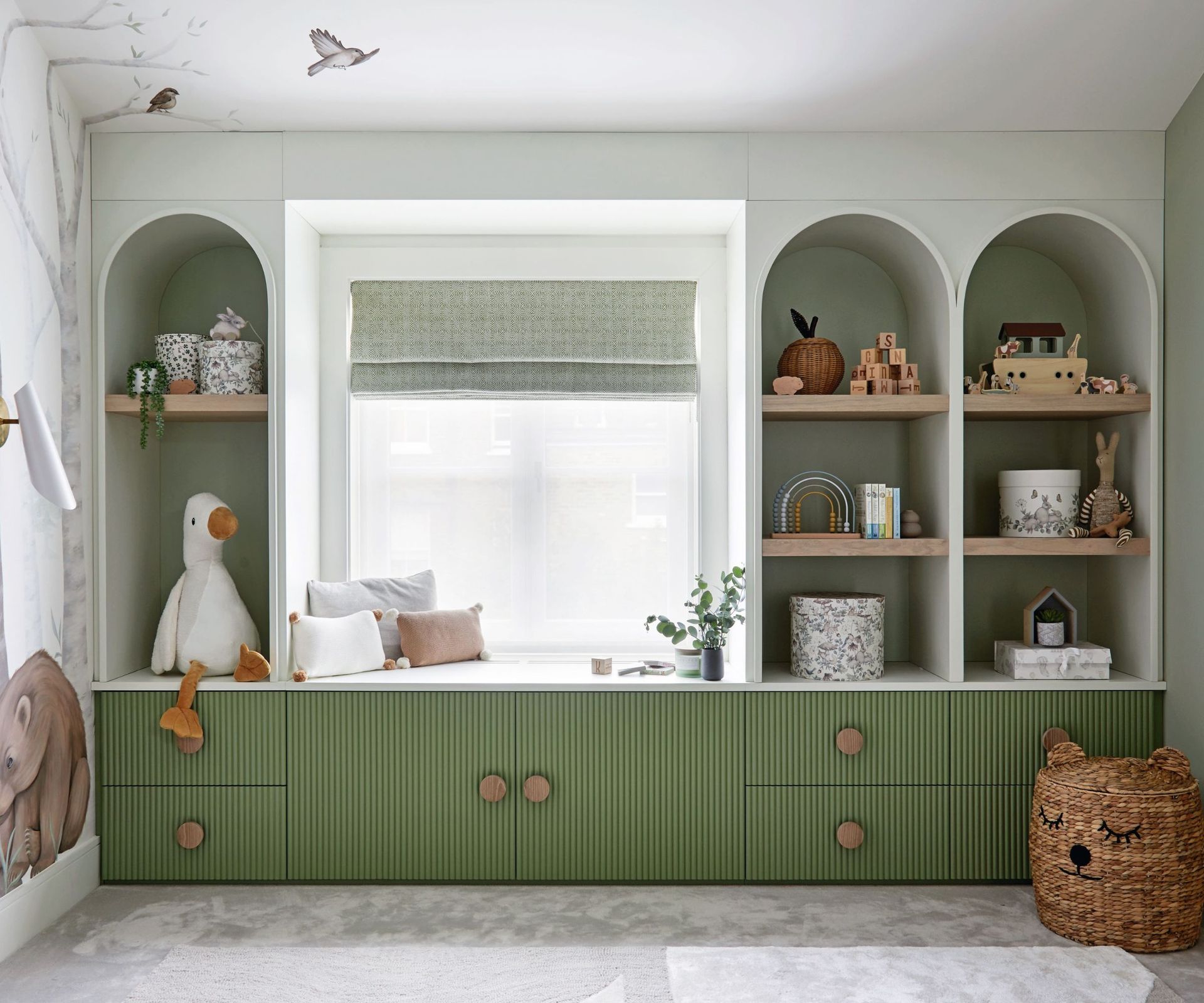 Bear in mind, it's not always necessary to go full out with wall decor panels in a room. Instead of covering a wall or ceiling with extra detailing, pick out a piece of bespoke joinery and use a paneling effect on the doors instead. This will add some texture to a room in a subtle way as well as adding a distinctive design detail to a wall of shelving and storage. 
This nursery design by Joanna Landais of Eklektik Studio incorporates a bespoke storage unit with smart, narrow reeded panelling in sage green.
'Paired with oversized handles and oak finishes, the convex choice of paneling adds depth and visual interest but also distracts the eye from sharp angles of the sloped ceiling,' explains Joanna.
9. Choose silk wall decor panels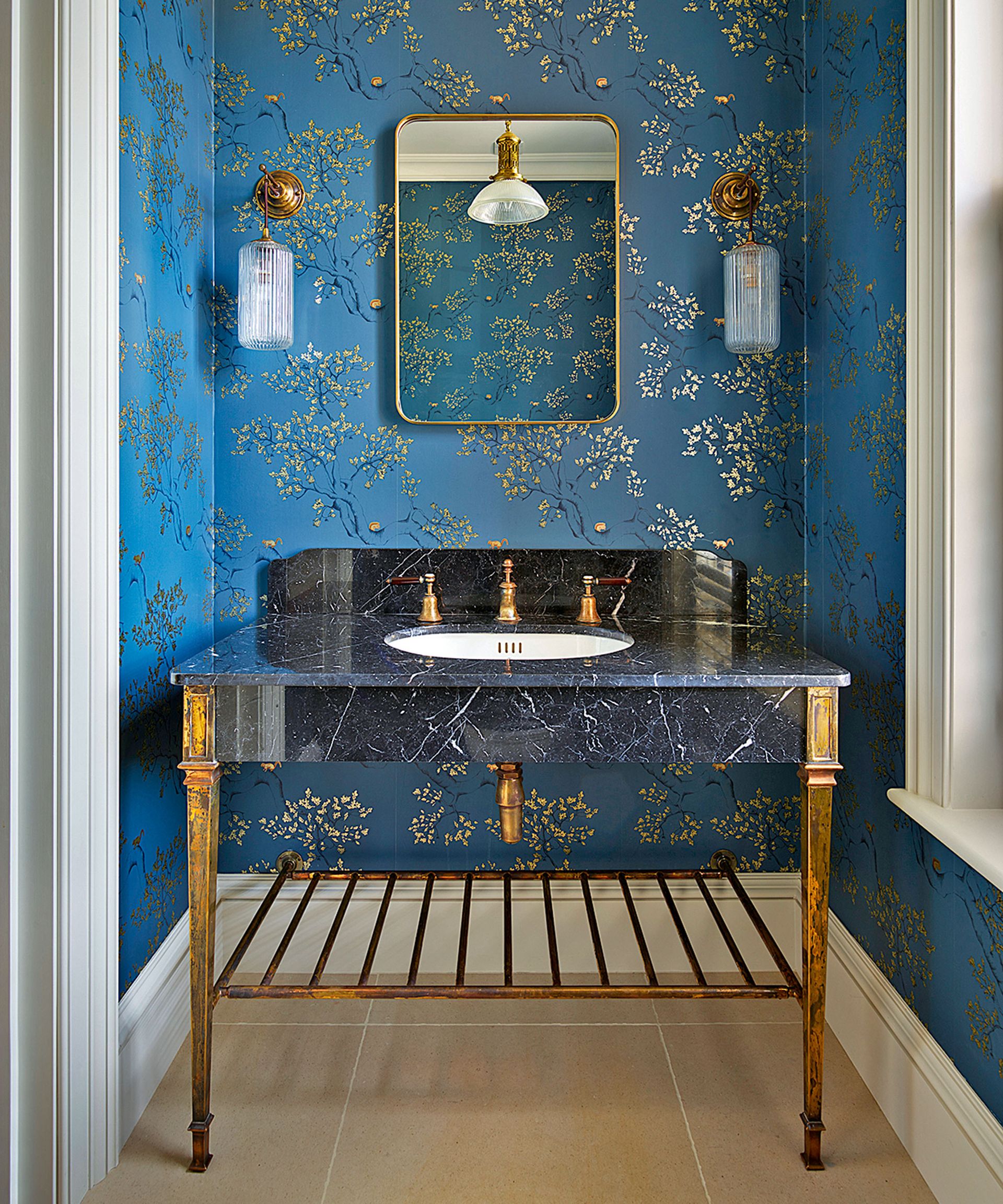 Installing fabric walling, particularly silk wall decor panels bring an instant elegance and sophistication to the space, not to mention a pleasing sound deadening effect. 
Bear in mind that silk wall panels will be perfectly imperfect when hung. As a natural fiber, there are irregularities and variations which will be especially visible as that fabric is laid flat and it's recommended to use cords and trims along the seams to protect and hang the seams. 
Hanging silk wall panels is an art in itself and specialist fabric producers such as James Hare recommend employing a professional fabric wallpaper hanger with plenty of experience in hanging silk to do the job.  
10. Update shiplap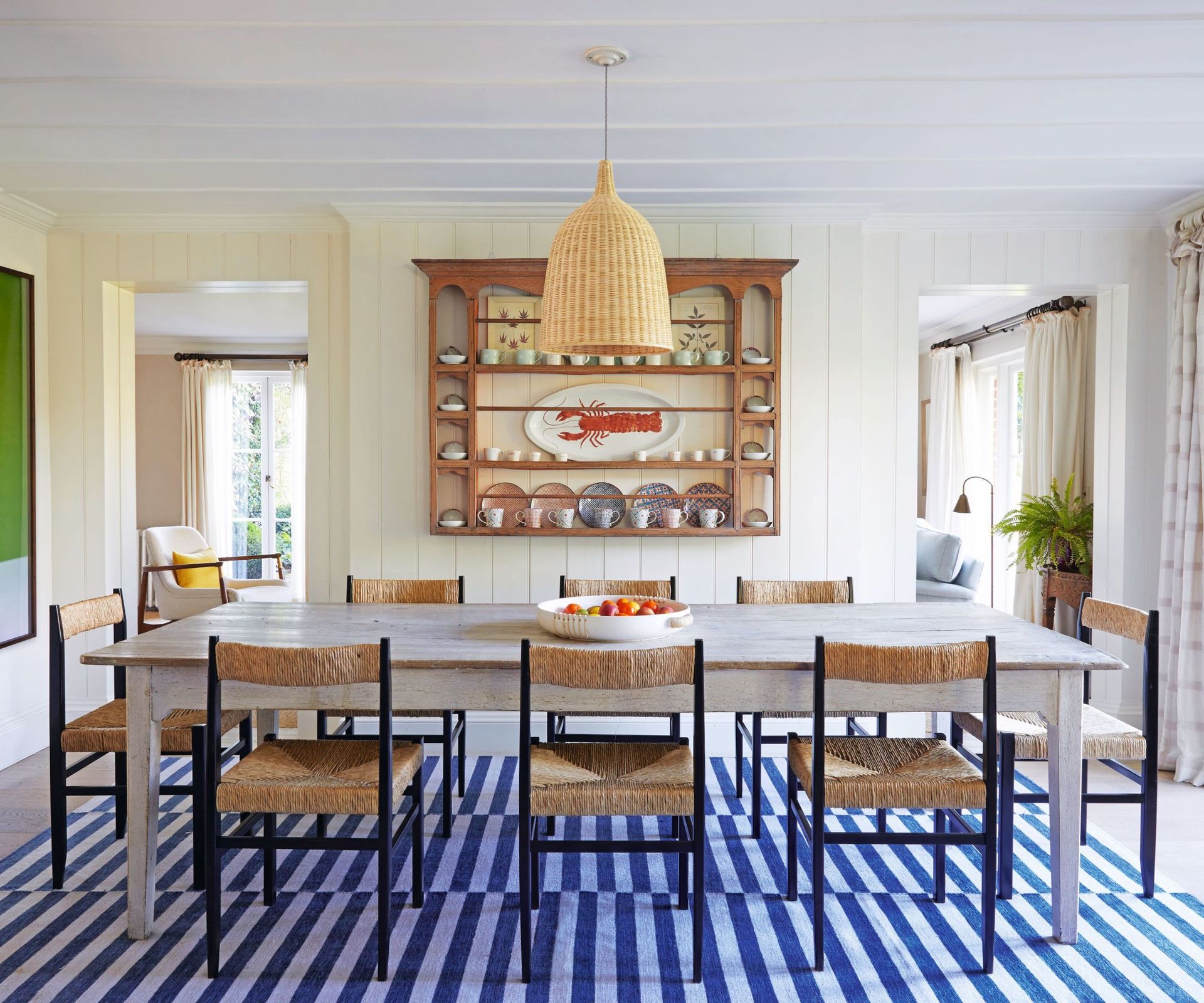 Shiplap wall ideas are a classic treatment for a country or rustic scheme. It can look particularly attractive on attic bedroom ceilings, too, where it adds interest and deflects attention from the lower ceiling height. 
This type of wall decor panel will also disguise imperfect surfaces and add an extra layer of insulation. In the kitchen of her previous home in Hampshire, interior designer Susie Atkinson decided to add shiplap to the walls and extend the theme up through ceiling panels.
'It seems like a strange thing to do as the ceiling heights aren't high in this room but it worked as the detailing added some interest and stopped the ceiling from feeling low and blank,' explains the founder of Studio Atkinson. Use uniform thin boards rather than random-width ones for a less distracting and more subtle result. When decorating a small room, consider laying the planks horizontally to visually widen the space.'
11. Disguise an alcove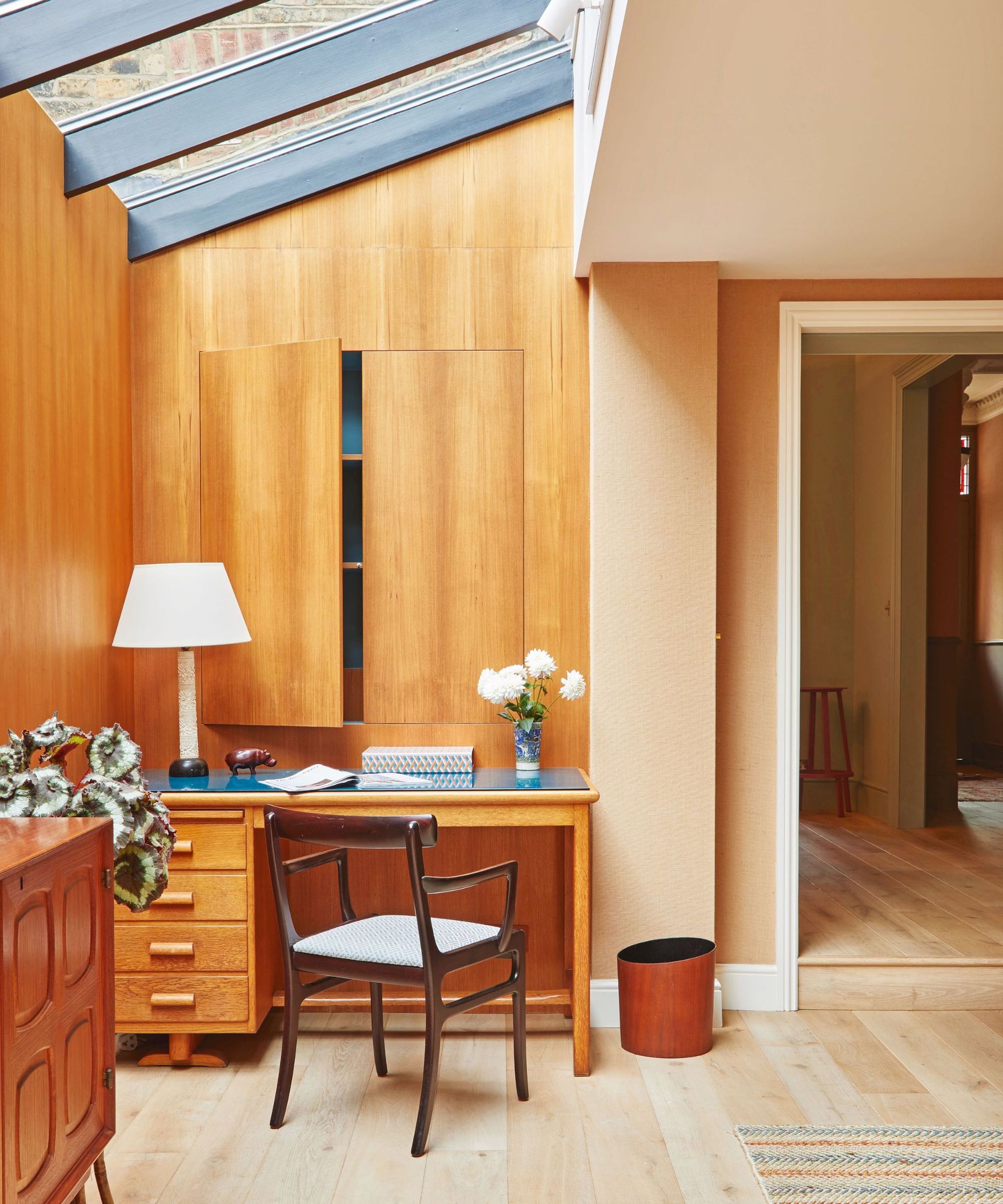 If you're looking for alcove ideas that will make your space more streamlined, the room above offers inspiration. 
Its 1970s approach to wall decor paneling, with walls clad in smooth warm-toned teak panelling, offers pleasing fine grain patterns in the wood, picked up perfectly by the natural light flooding in from above. 
Use a similar handless design with any useful inset closets for a flawless finish. 
'We sourced a Dutch Art Deco desk and added a reverse painted glass top to add a splash of color,' says designer Brandon Schubert. 
12. Use wall decor panels to enhance a space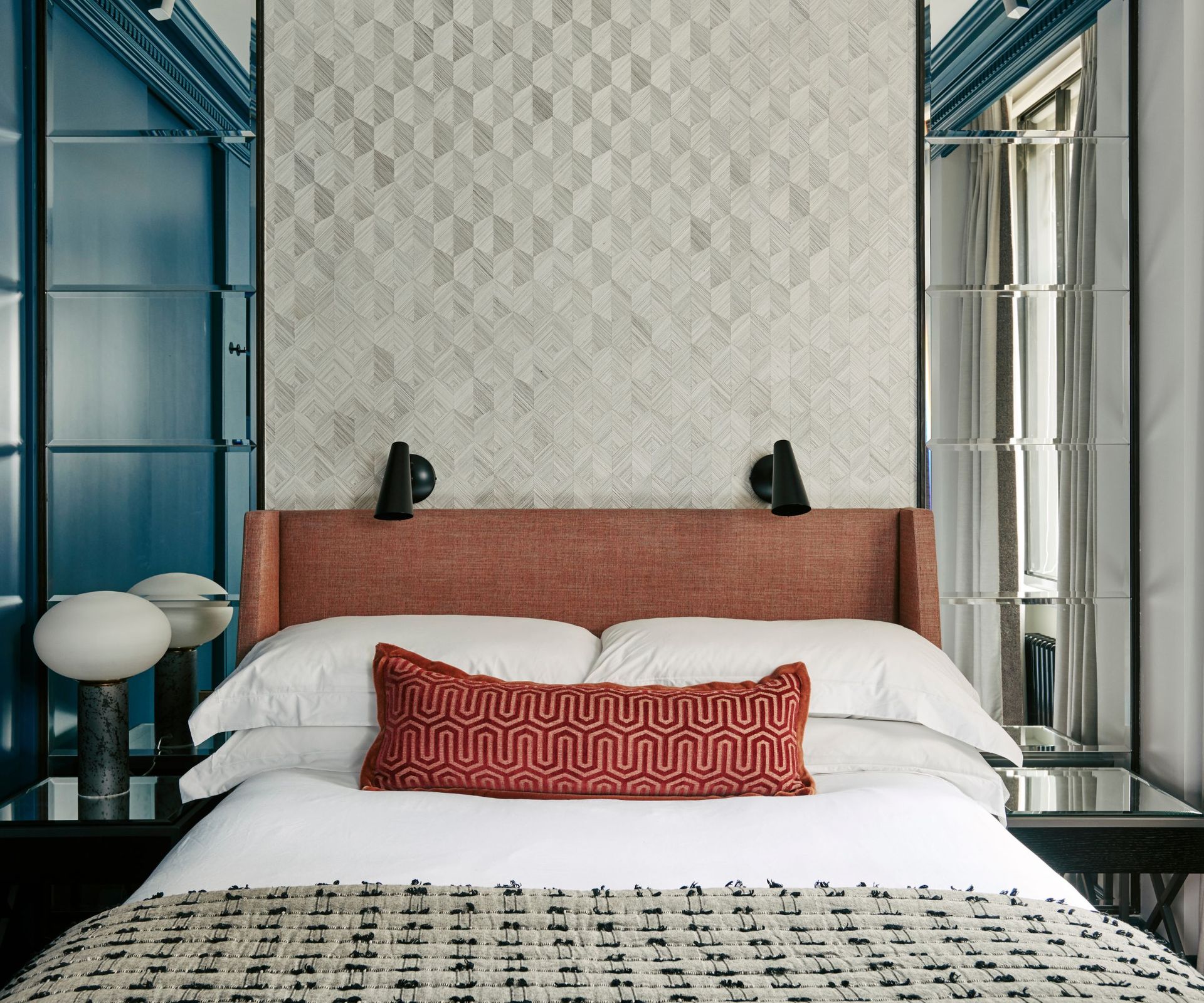 Layers of wallcoverings in different materials will help to bring interest and diffuse attention in different directions, thereby cleverly disguising the parameters of, and making this small bedroom look bigger. 
Deborah Base, founder of Base Interiors, has worked with bold colors in the joinery and textured wallpaper for the teenager's bedroom scheme (above). 
The latter is a geometrical design by Arte which features two-toned hexagons that overlap each other, adding a striking contemporary note. 
'This is punctuated with vertically arranged bevelled mirrors which are both a reference to the Art Deco glamor of the building and help to draw light from the large Crittall windows into the room,' she explains. 'The earthy tones of the headboard bring a focal point for the eyes to rest on.'
FAQs
How do I decorate with wall decor panels?
'Wall decor panels are an easy way to add texture, depth and interest to walls and are great for all types of properties, whether historic or contemporary,' believes Rosie Ward, creative director of Ward & Co. 'The key to successful wall decor panels is to match them to the age and style of your home. For example, half-height panelling paired with delicately patterned wallpaper in a powder room or bathroom creates the perfect country aesthetic, or two-tone paneling with a lighter, contrasting shade highlighting the detailing can be particularly striking in a more modern space.'
Where should I use wall decor panels?
Wall decor panels are a decorator's secret weapon when it comes to battling with bland new-build properties. Rooms can easily feel lackluster if the spaces haven't been designed well but the introduction of some paneling detailing will immediately soften the space. 'It's also a great way to sew together a property which has been built over different periods,' adds Georgina Cave, founder of Cave Interiors. 'We recently worked on a property which had a modern addition which lacked atmosphere. To address this, we clad the walls in shiplap which was a detail carried through from the original house.' 
If wanting to create a design distinction between traditional and contemporary, Georgina recommends using v-shaped boards with a 0.1in groove: 'I feel that any wider somehow has a less subtle effect and doesn't look as sharp.'
---
As you can see, wall decor panels can range wildly, from art installations to those that bring texture, natural materials and color to walls. The key to success? Choosing designs that chime with your home's age, architecture and consistent decorative style.